Visit Morocco with drone?
Since 2015 Morocco has banned the use of private drones and as they x-ray all luggage that comes into the country, they will spot your drone certainly. If they find your drone on arrival you may be lucky and deposit it in a shelter during your stay. Wheny ou fly back you can pick it up and bring it home. If they catch you flying you are likely facing a charge of more than 1000 MAD and potentially further legal consequences.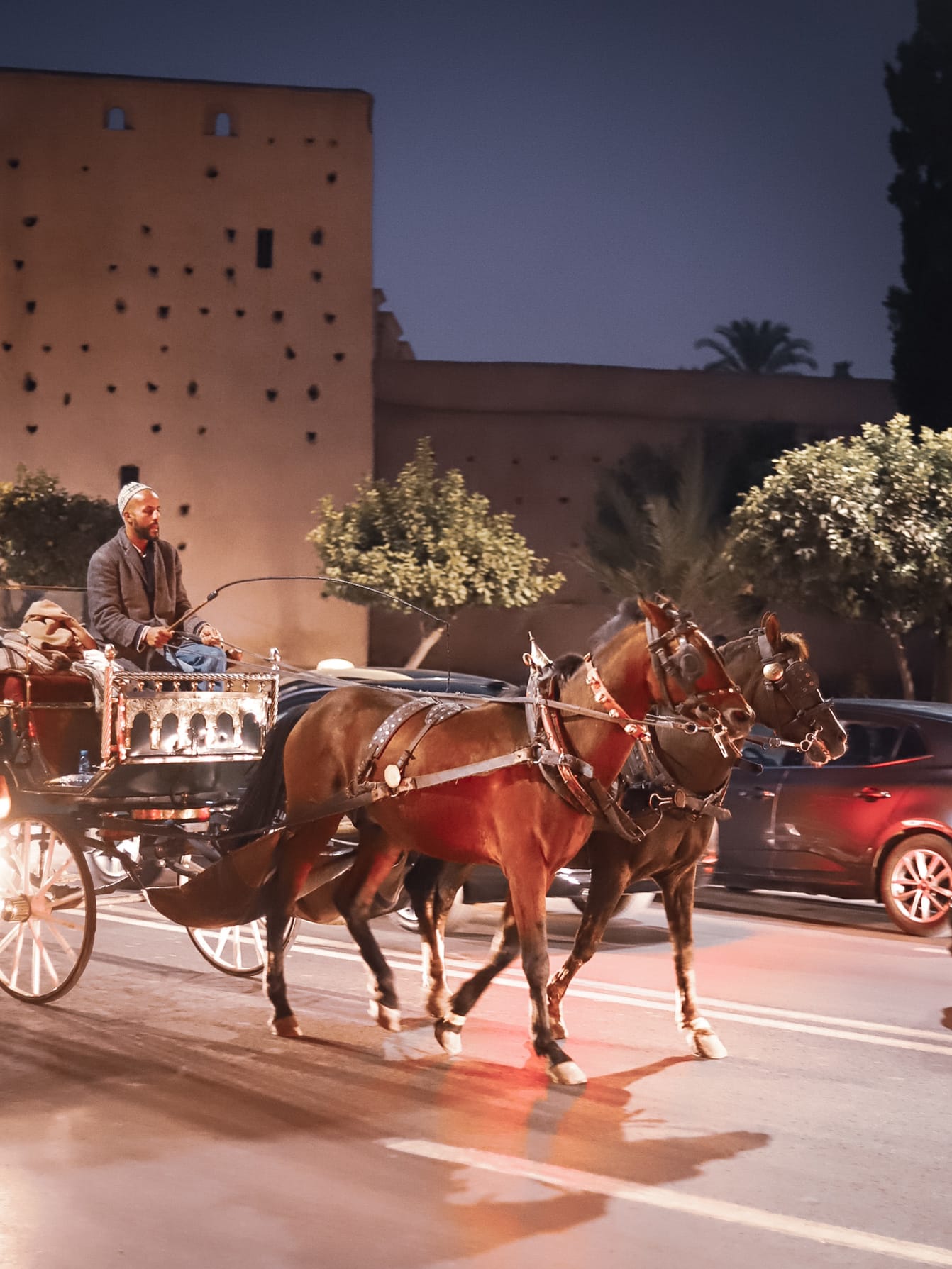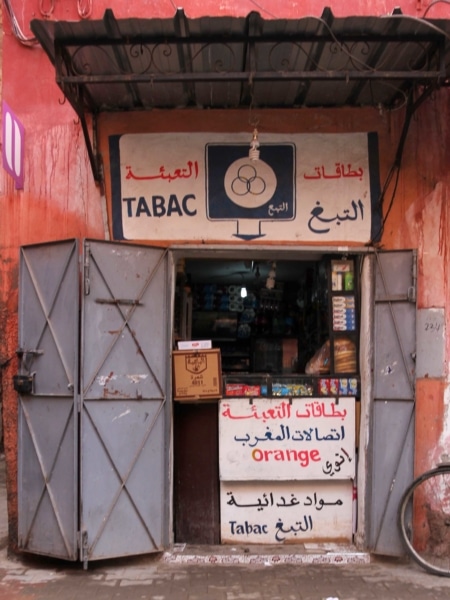 So, leave your drone at home and enjoy this fascinating place with your DSLR, mirrorless or smartphone. Here is our one-week travel guide for Morocco including the following highlights:
Explore the vibrant Zouk in Marrakech. Enjoy the vista above the Medina from Nomads restaurant.
Visit the third biggest mosque of the world in Casablanca. Enjyo a delicious lunch at Rick's Cafe from Michael Curiz film Casablanca.
Take a spectacular flight above the Atlas mountains.
Spend a night under the stars in a desert camp in Merzouga.
Take a camel ride in the biggest sand dunes of Morocco.
View the fascinating ancient town of Aït Benhaddou close to Ouarzazate and explore the hidden oasis Fint.
Check out one fo the world's biggest solar power stations.
Grab tons of souvenirs and learn how to negotiate with local traders.
Enjoy a local hammam spa prior departure in Marrakech.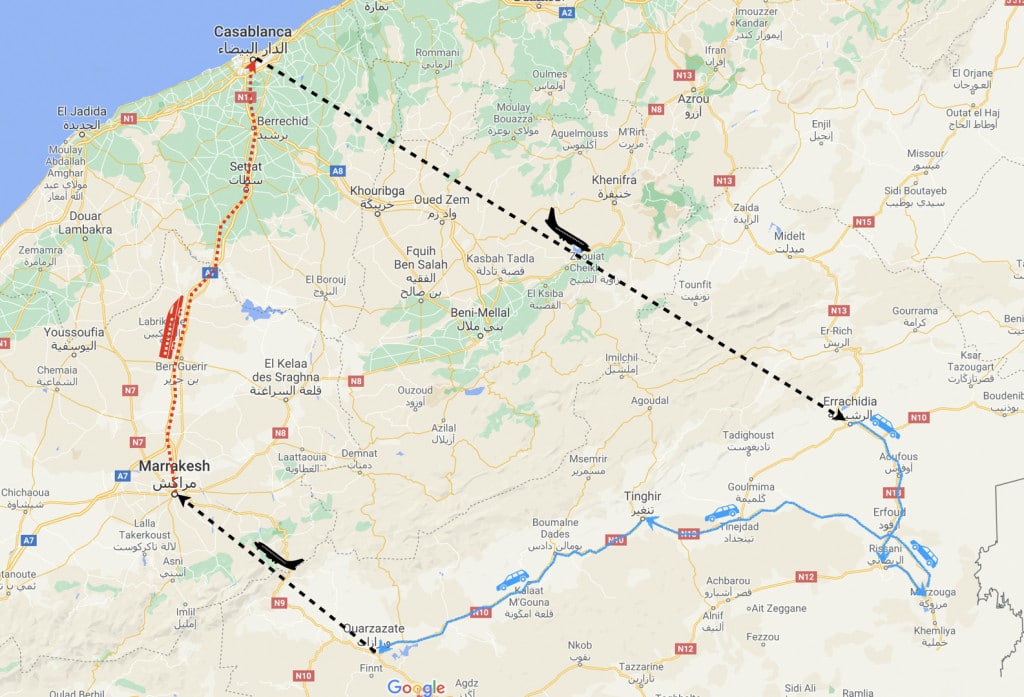 Day 1 – Arrival day in Marrakech
Welcome to Morocco!
Before you leave the airport, make sure you get a local Moroccan SIM card. A 5 GB SIM card costs around 150 MAD, which is enough to provide you with good network data in any remote area of Morocco to navigate Google Maps, search a nearby restaurant via TripAdvisor or share some impressions via social media.
Between the arrival and the check-in areas in Marrakech airport hall there is a small souvenir shop that sells water, cigarettes and SIM cards. Just ask the gentlemen for one if you do not see a sign.
Once you step out of the airport, you will have to find a way into the city. Even if the airport is very closely located to the old town (the Medina),I cannot recommend a walk, unless you are eager to do a 40 minutes workout after a long flight.
Besides walking, there are 3 main ways to reach the city center and your accommodation:
Public bus: the cheapest way to reach your place is with an ordinary public bus, which cost 4 MAD (2019). Just hit the public transportation feature on Google Maps and find the most convenient bus connection to your place. The bus stop is outside the airport in a 10 minutes walkable distance. Despite Google's time indication you could have to wait a random amount of time for the next bus. The ticket can be bought directly on the bus, where bus drivers can easily change a 100 MAD bill and are usually very nice. Make sure you keep your ticket as sometimes officials come to check for passengers without a valid one.
Airport bus: Once you passed the taxi area walk straight to the car rental containers. Close by there is a bus stop labeled with number 19 that will take you to the city center for around 30 MAD (2019).
Taxi: Taxi fares in Morocco are low if taxi drivers are willing to use their taxi meter. Unfortunately, this is mostly an exception and therefore you will have to negotiate a price. Depending on where you go, you will have to pay at least 200 MAD (2019) if you arrive late at night.
Whether you take a taxi or bus, if your hotel is located in the ancient town of Marrakech, which is a very chaotic (but nice) place, it is likely that Google Maps indications are far from perfect. Some of the tiny streets are not even available on Google Maps. This makes it hard to navigate, especially after an exhausting trip.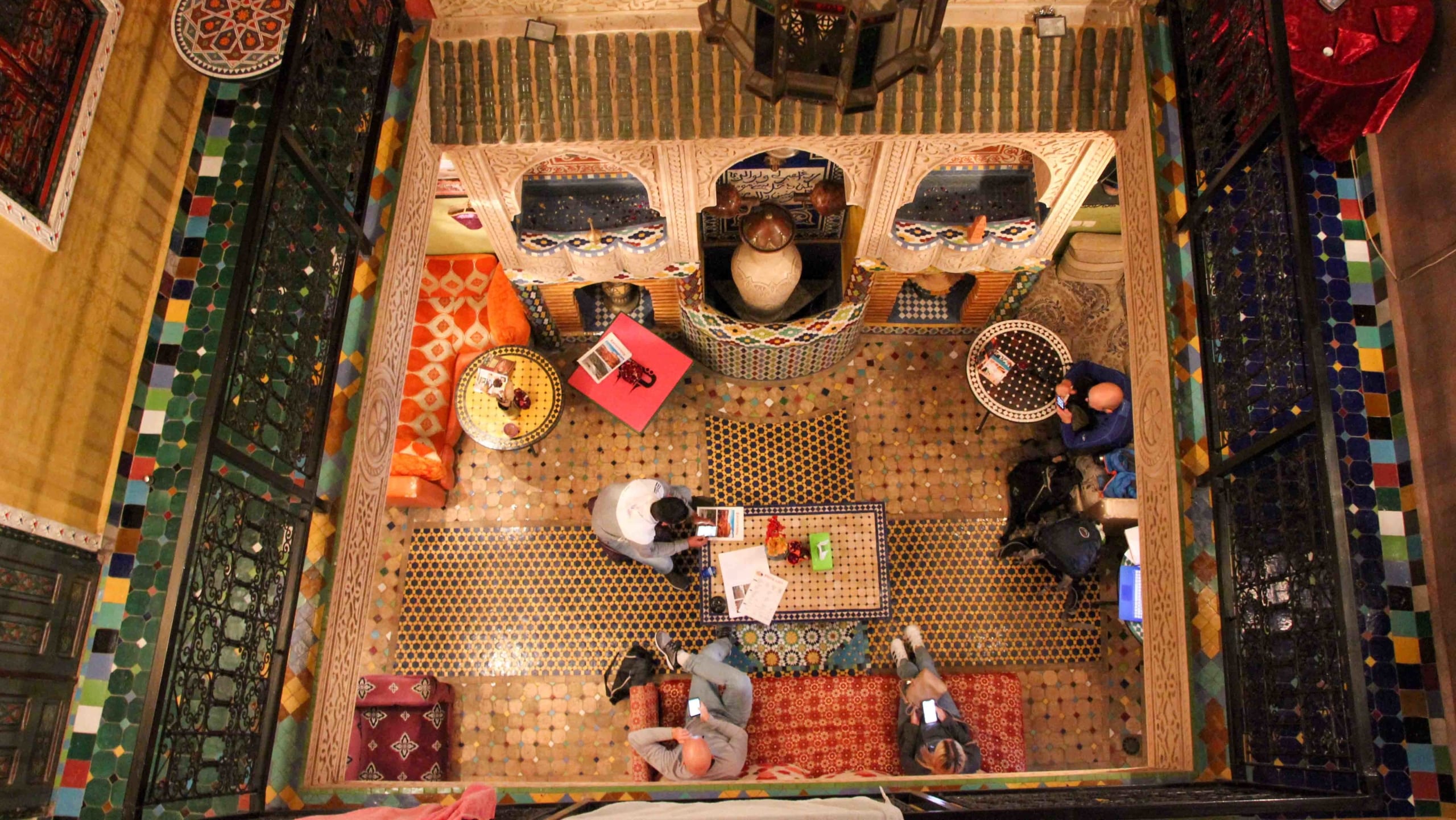 We suggest to you contact your hotel in advance to get in touch and make sure they know when you arrive. Some may offer you to meet at the entrance of the old town to help you navigate to the accommodation. In case you will get lost and struggle to find your accommodation in the old town, it could happen that young Moroccans approach you to offer their help. Be aware that they will ask for some tips afterwards
Our general hint how to turn down any annoying requests by the locals: JUST IGNORE THEM. You might think that this will not discourage them, but we have made good experience and can ensure that after 2-3 times they will give up.
A fantastic place for a central and amazing value for money dinner is Café Kif Kif. Run by a French Gentleman. This three-stories restaurant is located very closely to the main square "Jama El f'na" and offers a variety of local Tajines, burgers and some very nice starters until late.
Day 2 – Marrakech
While the local Mosque will shout its first prayer of the day at around 6 AM, most tourist-related activities start rather later. This also includes the markets and breakfast, which are commonly ready to be enjoyed from 8:00-8:30 on.
Most accommodations in Morocco include a local breakfast which commonly consist of a mixture between French and Moroccan taste. Generally you will get different types of local bread and pancakes (Baghir) as well as slices of baguette, often nicely warmed up or toasted served together with a variety of jams, honey and sometimes oil , butter and cheese. A fresh orange juice as well as tea or coffee is never missing either. Depending on the season, you might also get some fresh fruits. If your place does not offer breakfast, you may find something outside. If you are in the west of Marrakech we can highly recommend the Boulangerie Pâtisserie Charif, which has excellent breakfasts and is a great place for tea, coffee or some french-style snacks in between.
Once you had breakfast head into the city and let yourself flow by the craziness of the Souk (the local market). If you want to buy something, always negotiate hard and when the seller gets angry, then you know that you made a good deal. In general, it is recommended to check in advance whether you can get the same stuff (e.g. spices or a Moroccan tea set) also at home for probably a cheaper price then on the markets of Marrakech. For more insights on how to negotiate with the locals, read our recommendations on day 7 (Link).
Besides the main market, Marrakech offers a variety of places to see. Those are for instance the Maison de la Photographie, Jardin Majorelle, Musee Ive Saint Laurent, Bahia Palas, Maderas Ben Youssef and many more sites shown in most tourist guides.
You may be tempted to check out the leather tanneries in the norther areas of Marrakech. While your temptation is fully understandable, we didn't dare to visit this place. Just look at the Google and TripAdvisor feedbacks and you will conclude that this place is probably not worthy a minute of your stay, unless you want to get ripped off or threatened by a gun or knife. Also, we were told by some other travelers that the leather tanneries in Fes are way nicer and a save environment to visit.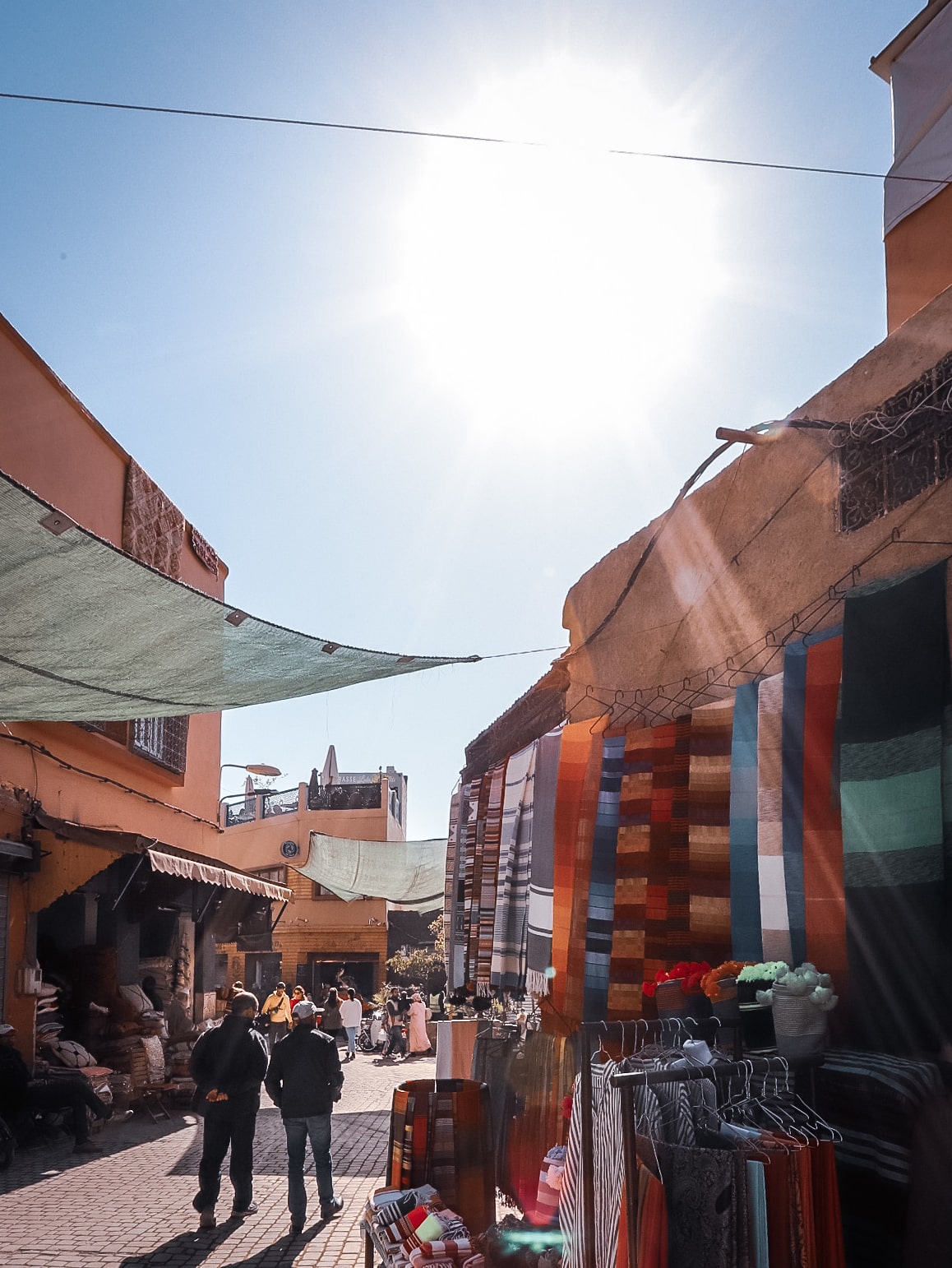 A great place for lunch is Nomads, a restaurant in the middle of the Medina which offers a variety of Moroccan foods far beyond street food and an amazing view on the city, enjoyable from the roof terraces. As the restaurant is famous and always crowded, you may have to wait a little bit before you get a seat, but if you book in advance you can also get a seat on top of the roof. The great location makes Nomads roof terrace an excellent choice also for a sunset drink or a dinner.
Morocco still has plenty of historical cars, particularly this Renault model can be seen all over the place. Most modern cars today are different Dacia models, including the Dacia Duster, which is an ideal car if you plan to do a road trip in Morocco.
If you want a more quiet, but very authentic Moroccan place, then go to Chez Lamine, an amazing restaurant that offers a variety of dishes, especially in the domain of meat.
Be aware that there are two restaurants called Chez Lamine, one in the heart of the chaotic Medina (not recommended) and this one one a bit outside, but still in walking distance. According to some of the photos in the restaurant, the owner won several prices during international food competitions and despite its reputation has kept prices at a very moderate level.
You may combine the trip to this area with a visit to the train station in order to print your ticket if you plan to travel from the train station early the next day.
A great place for a relaxed afternoon tea and coffee is the restaurant called Café des Épices, run by the same fellas as the Nomads restaurant. They have a multistory building in the middle of the Medina and from the roof you could enjoy a brilliant vista on the marketplace, at a very moderate cost.
As for dinner you may be tempted to grab a snack on the market square Jama El e'fna. While the street food stalls look inviting, their managers are often very aggressive and food safety is not necessary up to good standards. If you go, make sure you eat in a place frequented by locals.
Day 3 – Train to Casablanca
Casablanca does not offer very much as it is the main business hub of Morocco. Hence one day is enough to check out this vibrant city. We suggest to take a train early in the morning at around 7 AM destination Casablanca Casa Voyageurs. In order to get a good train deal, book your ticket in advanced via the Moroccan train website ONCF. You can print your ticket at the vending machine in any train station.
Trains quite comfortable and train staff is friendly too. The 3 hours ride to Casablanca takes you through an interesting landscape that is worth a shot. Prior reaching Casablanca Casa Voyageurs station the train will pass by a number of slums, which unfortunately are part of Casablanca as a city with lots of social problems.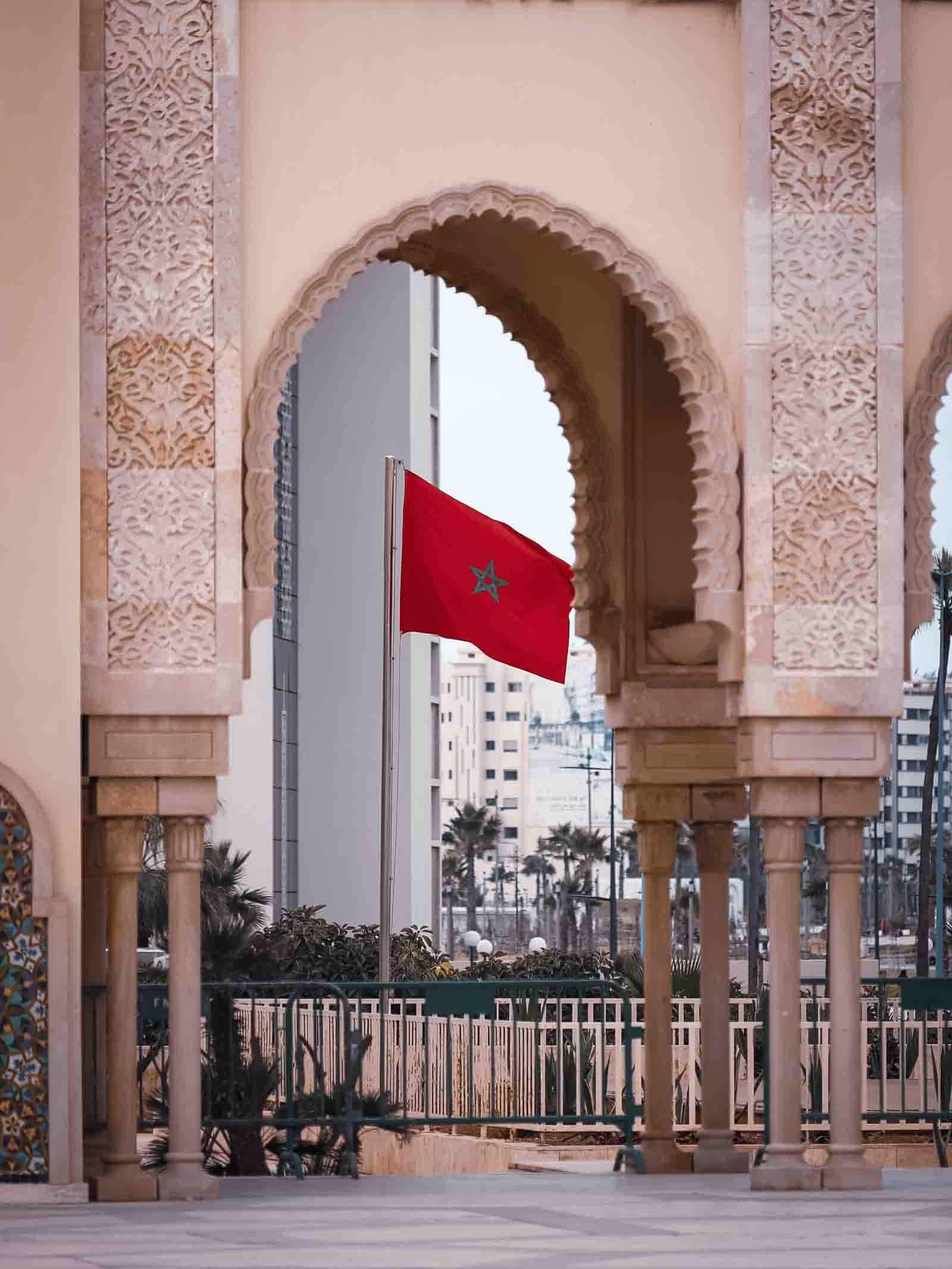 Once you made it to Casablanca Casa Voyageurs station, you have two exits. You can either follow the exit towards the TAXI area and hope to get a drive who is willing to use his taximeter. Another option is to choose the exit towards the city center. Then walk a block and stop a taxi driver to take you to your place. According to our experience taxi drivers in Casablanca will mostly use their taximeters.
Once checked into your place, head towards the streets and take a cab to the Hassan II Mosque, which is the third biggest mosque in the world.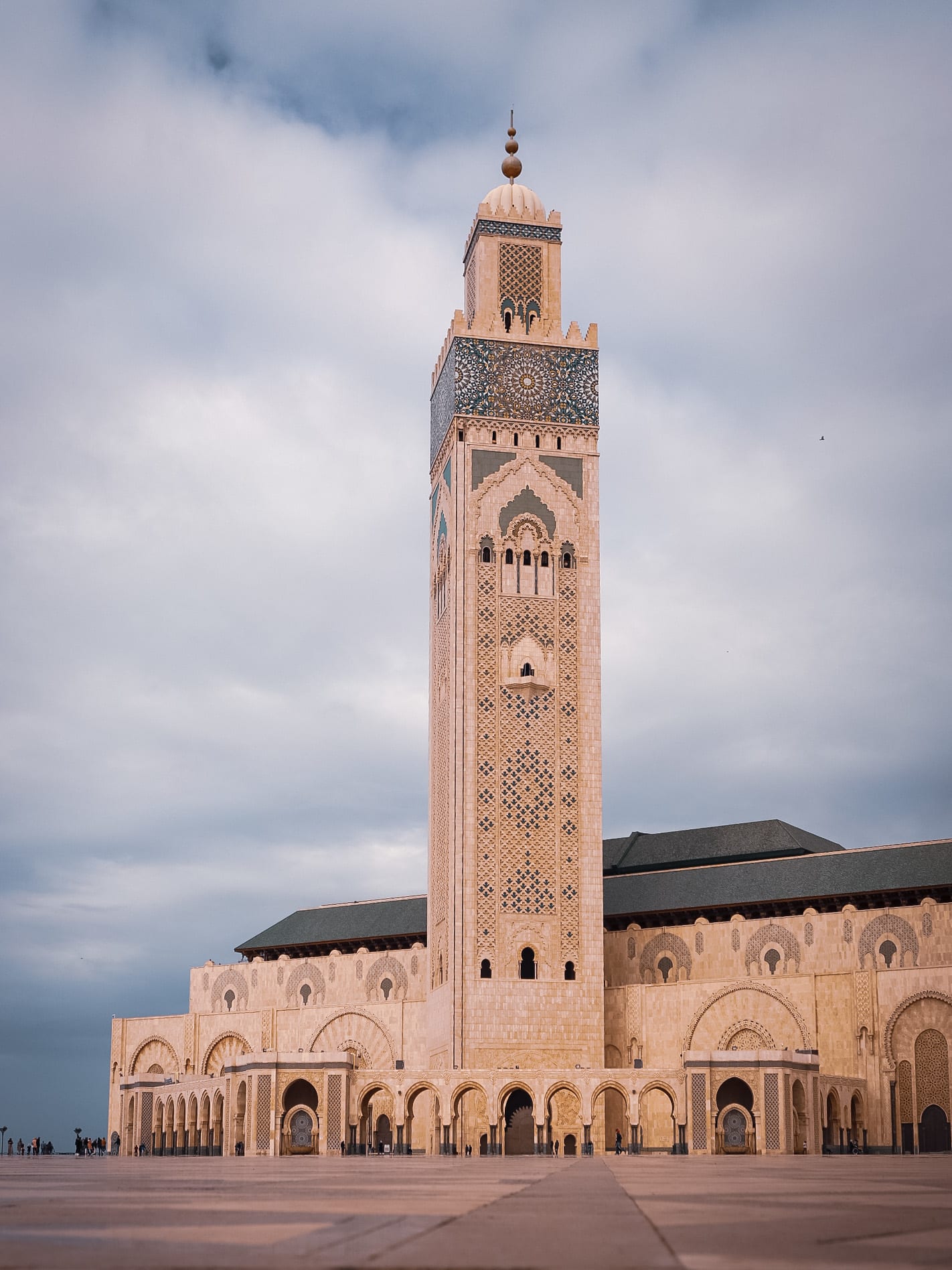 The mosque is loaded with decoration and beautiful art elements
This fascinating building is a great photography spot. Be aware that in order to see the inside, if you don't go there to pray (which is free of cost), you will be force to pay a 120 MAD tourist ticket.
Near the mosque there are limited interesting eateries, unless you want to try some local street food. However, if you walk 10 minutes along the marine school of Morocco (École Royal Navale) you will arrive at Rick's Cafe, a restaurant opened by a former diplomat, which is nothing less than the place where Rick Blaine drinks signatures Cocktails in Michael Curtiz film "Casablanca" This amazing place has excellent service (really excellent) and very good dishes consisting of a blend between fine French cuisine with Moroccan ingredients. If you like spicy food, we can recommend the Chili con Carne Obama Family.
As for the afternoon, a walking tour through the old parts of Casablanca's European architecture is well worth. Don't be surprised that the area can look quite run down, especially during the evening in rainy conditions.
If you climb over the fence you can get an amazing ocean vista towards the mosque
If you want to enjoy a beautiful vista on a roof-bar we can recommend bar "16ème Floor", which is on top of the Mövenpick hotel. If you are there, say Hi to Hassan, the lovely elderly gentlemen who managers the place.
Day 4 – Casablanca to Merzouga
Take an early morning flight from Casablanca to Errachidia, a city in the far East of Morocco that is nicely connected to Merzouga and the beautiful sand dunes of Erg Chebbi, which are among the most famous ones in Morocco.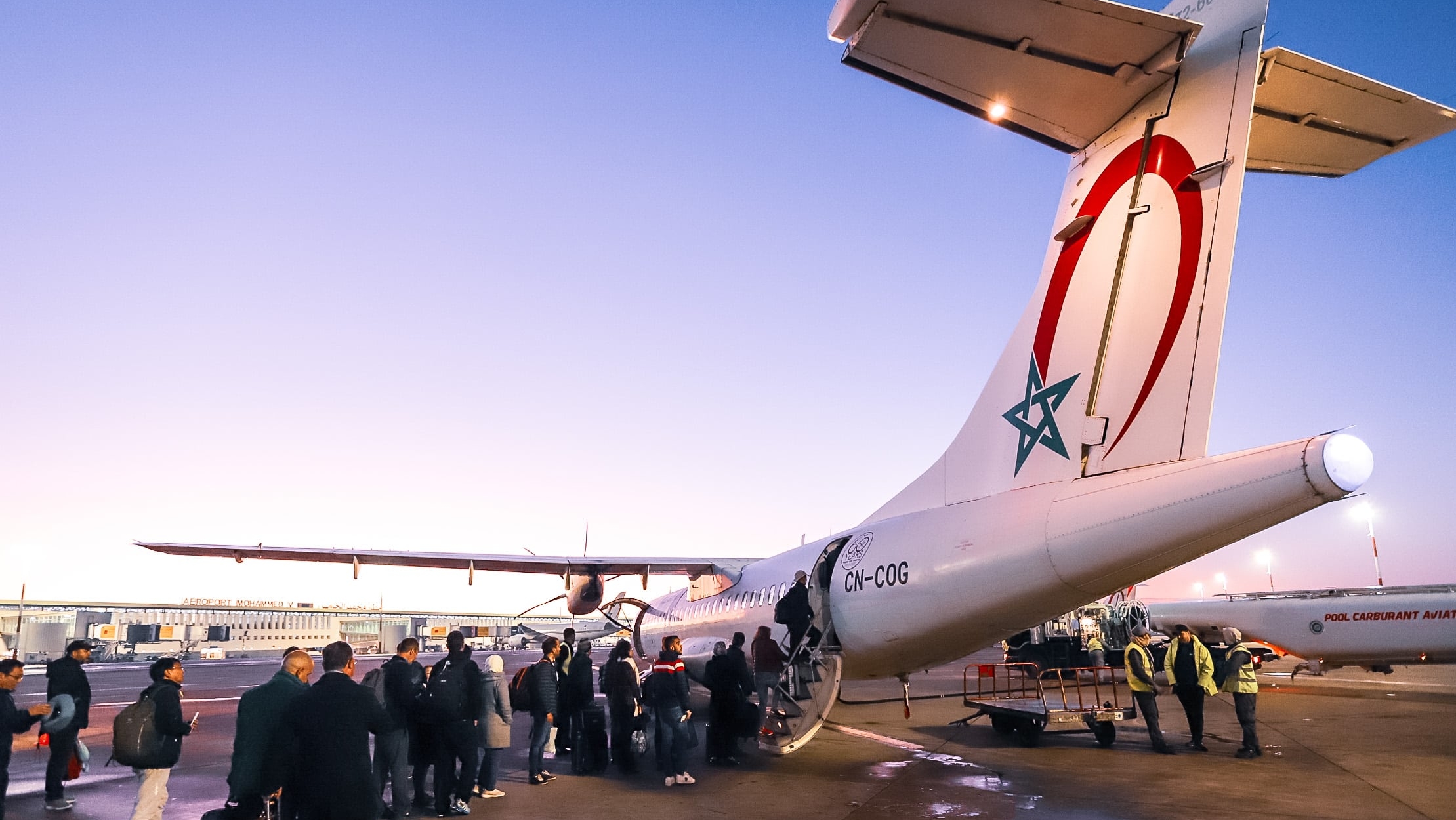 Royal Air Morocco operates these flights with small turbo propeller airplanes and you can get good deals if you book in advance. We payed around 30€ per person one way from Casablanca to Erichidia, including our big backpack.
While Casablanca airport is connected via train, for early morning flights it is more convenient to go by taxi, which from the city center costs around 250 MAD for a 40 minutes ride. Just ask your hotel manager to organize a taxi for you.
The domestic Terminal and boarding area at Casablanca airport are relatively small, but includes a coffee place to have a relaxing French style breakfast with a nice pain au chocolat or croissant. During the flight Royal Air Morocco did not serve any drinks and food, which was a bit strange since the booking process includes a questionnaire about diet preferences.

Errachidia airport is tiny and has only a single luggage belt. It seems that it is a military airport that more recently also serves tourist purposes, nevertheless public facilities are very new and clean. Outside the airport you can either grab a petit taxi to the center of Errachidia and take a shared grand taxi from there, or directly opt for one of the grand taxis that wait for tourists at the airport.
A short detour about transportation in Marokko.
Besides affordable domestic flights, Morocco is well organized with a taxi-like transportation system. This means, within city rides are operated by the so-called petit taxis that can take up to three people. Between cities, the rides are served by the so-called grand taxis, that can take up to 6 people. Besides these taxi-like connections, overland busses operate at incredibly slow pace. When you want to commute from one city to another one, you go to the taxi station and buy a ticket to where you want to go. The grand taxi will leave as soon as all the seats are sold. Usually this system is very fair and Moroccans treat foreigners in the same way as locals. This system, however, may also appear to be costly when you take a 6 seats taxi only in two. You may hope to negotiate, but they will charge you the price of 6 people, even if you go alone. Understand this system makes traveling in the East of Morocco much easier. For example for a 4h30min ride we payed 800MAD, if we would take a shared taxi this price would be 130 MAD per person, but we would have had to wait until the taxi would be fully booked. If you take a grand taxi for yourself, you can also ask the driver if he agrees on a few photo stops. Since there are no fixed schedules, toilet or other breaks are common, but don't worry, no driver will make you get off at a designated shopping place to grab commissions. As for the grand taxis, you usually do not pay the driver, but some kind of ticket manager who is in charge of the drivers and the organization of the taxi stand.
Once you arrive at Errachidia with the aim to reach Merzouga, our suggestion is to take a grand taxi (not shared) to Rissani, a little city roughly 2 hours from Errachidia and half an hour from Merzouga. For some reason grand taxis charge a premium of 150 MAD to bring you until Merzouga, even though it is only a 20 minutes ride from Rissani.
It is much cheaper to stop in Rissani for lunch and go to Errachidia via local grand taxi for 15 MAD. In Rissani we can recommend to head to a place called Panorama Restaurant. This place is not only a nice hostel but also serves excellent Moroccan Pizza which is essentially a circular bread, filled with goat meat, nicely spiced and ultra-delicious. From the terrace of the restaurant to have an amazing vista on the vivid markets.
Around the corner of the restaurant you can grab a shared taxi to Merzouga. There is no official station, but the people there will quickly realize your needs and show you the guy who will sell you a ticket and make you sit in the right grand taxi.
Once you arrive in Merzouga a number of locals may approach you to ask you what you need. Even though it seems they may want to sell you whatever they have, Merzouga is different from Marrakech. Those people consider themselves as tourist managers and act in the best of your interest. If you need a coffee place, buy a tour, book a hotel or anything else, they will help you to find the perfect solution for you.
If you already have a booking for your place in the desert around Merzouga (which we highly recommend to book in advance), you can just tell the friendly people that you want to wait your driver and grab a coffee or tea in a nearby place. Prices are very good and for 10 MAD you get a nice Moroccan tea or a delicious Naf-naf coffee.
Around Merzouga there are many different desert camps, but often they are not as nice as the pictures on the internet indicate. After some research, we decided to book at Ali and Sara's Desert Camp, which is a bit on the costly side than other options, but – trust us – you will not regret the expense. Sara, the manager of the place, will pick you up and bring you to their house at the edge of the desert. If you drive your own car, just go there directly. From there a Jeep will drive you to the desert camp, while your car will safely remain parked on their property until you are back.
The facilities of Ali and Sara's Desert Camp are rather on the luxury side compared to traditional Beduine life. You will get a big tent including a sofa and a massive and really comfortable bed. Besides that, you will have your own shower cabin including a toilet and a sink, all coming in remarkable clean shape.
Sara's desert camp is a truly beautiful location nicley located within the sand dunes. You will get two tents, one to sleep in and another one to serve as a private bathroom with running hot water
After a little intro by one of the camp managers, you will know the schedule for the evening and can decide what you do until the dinner, which is served by the staff and is included in the room cost. You can opt for a sunset's camel tour (around 400 MAD) or just walk on the sand dunes and take loads of photos.
The dinner is served in a separate tent or, in summer, outside, and includes a large and delicious Moroccan menu that will feed your desert appetite. Afterwards, the multitasking staff will turn from waiters to entertainers, and you will be invited to play some Berber music with them around a the warming bonfire. You are not forced to join, but it is certainly a spectacle well worthy.
Day 5 – Merzouga to Ouarzazate
The next morning you can opt for a camel ride during sunrise or enjoy independently the beautiful atmosphere sitting on one of the sand dunes. Afterwards, a delicious and very abundant breakfast is served and you are free to continue your travel after breakfast or stay a few more hours to enjoy the peaceful atmosphere in the camp. If you plan to spend more than a week in Morocco, we suggest you to organize a desert tour either walking or by camel to reach another camp for a second night in the desert.
If you are on a tight weekly schedule, we suggest you to book a private taxi (basically a grand taxi for yourself) to reach your next destination. In our case, as we needed to reach Ouarzazate possibly before dinner. Therefore, we opted for a private grand taxi from Merzouga to the bus station in Tinghir for 800 MAD.
Tinghir is a relatively large town known for the close-by Todra Gorges that are well worth a visit. You may negotiate with the driver to include a short stop at the Todra Gorges. Be aware that grand taxi drivers, if hired in private, are not always in the mood to drive very long distances as they may have a hard time to find passengers to drive back. Thus it makes sense to expect a price premium if you ask them to drive a long distance.
Once in Tinghir you can arrange your shared grand taxi ticket to Ouarzazate. We recommend a shared grand taxi ride for this connection as the journey from Tinghir to Ouarzazate is a highly frequented booth by tourists and locals. The price for this journey in 2019 was 70 MAD.
The drive to Ouarzazate takes around 2 and half hours and brings you to the central square, where you can grab a taxi to reach your hotel. We can highly recommend a place called Le Petit Riad which has a wonderful swimming pool inside the courtyard. This beautiful and very clean place is located close to the airport, at the edge of the city. If you are tired from your trip, the owners will prepare a brilliant dinner experience, including wine if you wish, just ask them when you arrive.
If you need a break from Moroccan food, we highly suggest Le Miam Miam, a little "Moroccan Tacos" fast food restaurant. A Moroccan taco is basically a big tortilla wrap filled with all sorts of awesomeness. Our favorite one is the Chicken with extra cheese, it is really delicious and very great value for money. The owner is called Mario and you will identify him through its white and very particular mustache. He lived in Europe for a number of years and will entertain you in different languages (French and Italian).
To maximize your stay in Ouarzazate, make sure you rent a car. Unfortunately, some Moroccan car rental companies have bad reputation, but we had an excellent experience with Europcar located at the airport. If you are on a tight schedule, make sure you pick up the car after you have checked into your hotel so that you can start to venture early the next day without waiting for the car rental opening hours.
The city of Ouarzaztae located in front of the Atals mountain
Day 6 – Ouarzazate
Ouarzazate is probably most known for having one of the biggest Cinema Studios in the world where even movies such as Game of Thrones were made. Besides that, Ouarzazate has a lovely old town that looks picturesque, but is not very special in comparison what you can find outside the city.
One of the main attractions is the ancient town Aït Benhaddou, which is about 40 minutes' drive from Ouarzazate. Prior reaching the town, make sure you stop at a designated viewpoint right before the entrance, where is possible to take some breathtaking photos. Once in town, you will likely have to pay a few MAD to park your car close to some restaurants along the short main street and then you can head into the old town.
Aït Benhaddou is loaded with merchandise who sell souvenirs. A quiet fascinating aspect is that none of the merchants seems to follow an aggressive strategy to sell their things. Consequently, you can enjoy a peaceful walk through the narrow alleys decorated with tourist souvenirs until you reach the very top of the village from where you have a stunning vista.
View towards teh historical town of Aït Benhaddou from the recommended viewpoint
Another place well worth a visit is the Oasis Fint. This wonderful place did not have a paved road in winter 2019, however the locals said that in the near future the government will build an asphalt road.
As there is no public transportation to the oasis, it is likely you encounter some local hitchhikers on the road. In general, hitchhikers are a common thing in Morocco and if you feel comfortable, take them with you – you will certainly learn something interesting about the Moroccan culture.
The Oasis Fint is not only a very fascinating place because of its location on the bottom of a hidden valley, but also due to the river that floats through the valley and allows the villages to grow all sorts of things. You may grab a tea or eat something in one of the two restaurants of the Oasis and then head back to Ouarzazate.
Oasis Fint is located besides a river that supplies the place with lots of water to grow all sorts of vegitables
On the way back make sure to stop at a gasoline station to get a quick car clean for 20 MAD as the dirt roads will certainly make the car rental company unhappy.
If you have more time left you can visit is the solar power station in Ouarzazate. It is one of the biggest in the World and looks very impressive especially from the air. This very important energy infrastructure project was partially funded by the European Union and is a national pride in Morocco. Villages in Fint Oasis told us that until the power plant was finished, they did not have electricity unless they used diesel generators.
The tiny airport of Ouarzazate has international and national flights to various destinations, including 40 minutes direct flight to Marrakech. If you are short in time, you can give your car back at around 5:30 PM and take the evening flight at 7 PM.
Once in the airport, do not be tempted to go through security too early, unless you want to wait in a place without service. When we were there the only one shop behind the security-check was closed (and was partially turned into a prayer room).
You may better grab a coffee close by the check-in counters and go through security shortly prior the gates close. Fun fact, since no beverages can be bought in the terminal, security allows you to bring a small bottle of water from outside.
Massive solar power station in Ouarzazate. This is not a drone shot! I was lucky enough to shoot this one from an airplane on the way to Erichidia
Day 7 – Relax in Marrakech
After some exhausting travel days and busy touring through the country you can add a leisure day in Marrakech. One thing we can highly recommend is a Moroccan Spa a so-called Hammam. This relaxing activity commonly includes a basic scrub bath with olive paste and black soap and can he enriched with a variety of extra services, like massages and beauty treatments. Be aware that most cheap spas can be very dirty (as reported by many disappointed travelers on the internet) and completely ruin the relaxing atmosphere.
We had a great experience with Riad Al Ksar & Spa, a hidden corner of paradise right near the Bahia Palace in the Medina, which is not only very clean and has fair prices, but can easily be booked via WhatsApp.
Pro Morocco travel tip: get your souvenirs such as fragile Tagines at the end of the trip
Prior heading home it also makes sense to dedicate some time for souvenir shopping. If you plan to buy fragile things such as a Tajine, tea set or a Moroccan lamp, you may grab a cheap trolley on the markets so that you can carry your souvenirs safely.
Be aware that you will have to negotiate for almost everything and, in order to max out your success, you can follow these rules:
Always, start from a ridiculously low price (below the half of what they ask) and show that you mean it
Be aware that most traders sell the same stuff and there are good chances you find the same item in another stall for a better price. Use this argument to confront the seller
If you want a certain product variation and they do not have it, you may kindly ask them. Most traders are well connected to each others, and they will do all it takes to find you what you need
Make sure that the traders never block your exit from a shop so that you can always make a move out of the shop. If they really want to sell you the item, then they will run after you and ask you to come back, commonly with a better price
You need to be tough with the local vendors, otherwise you risk to pay more than back home on the internet. In fact, you may even check in advance if buying in your home country may turn out to be cheaper than on the markets
Day 8 – Departure day
Time to head back home. As explained in point one, the connection to the airport include public bus for 4 MAD, airport bus for 30 MAD or taxi for as much as you are negotiating. You may as well extend your trip by more days or stay somewhere for longer than in this guide. Anyway, enjoy your travel in this wonderful, but unfortunately drone-free country.